Camira Fabrics and Footprint Recycling
What we did: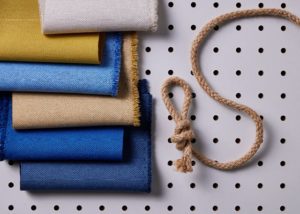 With several sites across northern part of the UK after saving our customer over £40k (off a £45k p.a. general waste bill) during the first 18 months of their 3 year contract and increasing recyclability to 93% with 0% to landfill we are now into our second contractual term. To keep pushing the boundaries of environmental waste management we have provided 'closed loop' recycling recommendations that involve potentially creating a recycled fabric out of existing waste material using fabric brought back from their customers. This not only reduces waste and increases environmental credentials but it also provides the same for their customers creating a win win value proposition. We are also currently exploring biomass systems using the customers' waste wood to provide energy.
What they said:
"In 2010, Camira Fabrics, a textile manufacturing business employing over 250 people between its head office in Mirfield and main manufacturing site in Meltham was looking for a way of gaining a competitive advantage by significantly reducing the waste to landfill from its operation. In 2010 68% of our waste was being disposed of to landfill.
Discussions started with Footprint Recycling who made the bold promise that they could help us to reduce the waste to landfill to zero percent in three years.  Camira started working with Footprint early in 2011 against a set of agreed targets. Footprint provided invaluable expert knowledge and assistance and in just over 2 years we were significantly ahead of target with 98% of all waste now recycled.
Footprint professionally manage our waste streams to recycling outlets achieving good returns for our waste product, ensuring accurate data collection and legal compliance. The whole process is much easier for us to manage.  Our many customers who visit our site are amazed at our environmental performance and some have since started partnerships with Footprint and have replicated the success.  In addition, we are saving approximately £40k per year when hugely reduced landfill costs are netted off against the revenue from recycled waste.
In December 2015 Camira was awarded the Queens Award for Sustainable Development by His Royal Highness the Duke of Gloucester for 5 years of continuous environmental advancement and best in class performance. It is the vision and strategy provided by Footprint, and a small number of other businesses, that we credit with helping us to achieve this accreditation.
I have no hesitation in recommending Footprint Recycling to anyone wishing to reduce their waste management costs and promote environmental best practice."
Alan Williams, CEO, Camira Fabrics